judith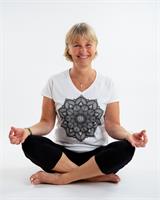 I have been practicing yoga for more than fifteen years, absorbing it through many different teaching styles.
My classes are a welcoming space, accessible to all and my teaching is gentle and introspective with an emphasis on flowing sequences guided by the breath, mindfulness and the peaceful meditative resource of yoga nidra.
judith instructs the following:
Beginners Yoga

These lessons are for people with little or no prior experience of yoga. The class will include breath work, an introduction to the yoga postures and mindfulness practice. The aim is to get people feeling comfortable in body and mind. An opportunity to try something new in a safe environment.

The class is suitable for all beginners




The prefect way to welcome the coming week with more balance and peace. This gentle and mindful Vinyasa Flow, guided by the breath, will relax your body and quieten your mind. We will finish with an extented Yoga Nidra or guided meditation to uplift the spirit. All levels are welcome and supported.