judith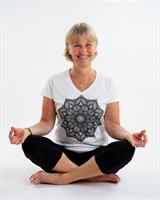 I have been practicing yoga for more than fifteen years, absorbing it through many different teaching styles.
My classes are a welcoming space, accessible to all and my teaching is gentle and introspective with an emphasis on flowing sequences guided by the breath, mindfulness and the peaceful meditative resource of yoga nidra.
judith instructs the following:
Ashtanga Vinyasa is a strong dynamic practice devised of a sequence of set postures 'asanas'. Dynamic movement combined with the breath links each pose together creating a flowing movement 'vinyasa' which creates strength, heat, stamina, flexibility and mind control, as well as detoxifying the body.

The benefits of Ashtanga Vinyasa are endless. With an emphasis of breath with movement the body is able to create an internal heat. The asanas in the practice realign the body correcting the muscular skeletal system. The dynamic practice builds strength and flexibility. Internal organs are detoxified, hormones balanced and the nervous system strengthened. These physical benefits combined with the mental discipline involved in Ashtanga Vinyasa will ultimately lead to a sense of wellbeing.




Beginners Yoga

These lessons are for people with little or no prior experience of yoga. The class will include breath work, an introduction to the yoga postures and mindfulness practice. The aim is to get people feeling comfortable in body and mind. An opportunity to try something new in a safe environment.

The class is suitable for all beginners




The prefect way to welcome the coming week with more balance and peace. This gentle and mindful Vinyasa Flow, guided by the breath, will relax your body and quieten your mind. We will finish with an extented Yoga Nidra or guided meditation to uplift the spirit. All levels are welcome and supported.




Enjoy the deeply healing benefits of Restorative Yoga. Calm and reset your mind and body in a restful and nurturing space. You will learn where you hold tension and how to consciously release it through supported poses (bolsters, blocks and blankets), working with the breath and gentle movement.

Each class will finish with a powerful and blissful Yoga Nidra meditation.

All abilities welcome and supported.