Mel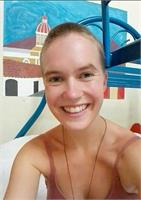 Mel became fascinated with yoga due to it's more holistic approach to wellbeing and non competitive nature. She appreciates the connection and non judgmental awareness of the self you can find from Yoga and meditation, encouraging presence, compassion and acceptance of our whole multidimensional selves! She hopes to teach in a way that inspires the same in the class. Her classes have a strong focus on connecting the breath to the movement and becoming aware of how you really feel today without any predisposed expectations, resulting in mindful movement that makes you feel great. She loves the range of variations you can do in a pose and always encourages people to try what feels best for their body and find their edge in the pose. Her classes often include core work, hip openers and an invigorating flow with hands on assists. Mel qualified in Hatha Flow, Pranayama & Self Awakening Yoga Therapeutics* at The Nosara Yoga Institute in Costa Rica where she has been teaching for the last 5 of 6 months in Yoga studios and retreat centers, guest-houses and with private clients. The last month was spent teaching in Nicaragua at a yoga, gym and spa center. She is excited to begin teaching in England now and so looks forward to meeting you!
*Self Awakening Therapeutics Yoga is a meditative technique connecting to the weight and rotation of your different body parts, engaging and disengaging them and releasing to gravity. This technique emphasizes using the breath, inviting Prana in to release stagnant energy in the body, this may be physical or emotional energetic blocks. Self Awakening Yoga is suitable for absolutely everyone, it can be great for those with injuries, total beginners and also a great conditioning technique for practicing yogis! Mel will be holding workshops on this technique.
Mel instructs the following:
Self Awakening Yoga Therapeutics, Hatha Vinyasa and Deep Relaxation with Essential Oils.

An afternoon of connecting to the different energies within. Slow down and tune in with Self Awakening Yoga Therapeutics, ignite your inner strength with Hatha Vinyasa and seal the previous hours of connection through surrender from a Deep Relaxation with Essential Oils.

Workshop includes herbal tea break!
Note this is not 3 hours straight of yoga asana (poses), there will also be guided meditation and pranayama.

£25





End of the week RESET. Starting in deeply relaxing restorative poses and turning inwards, this class begins by acknowledging the week that has past, choosing what to let go of and what to welcome for the new week. Followed by floor based Self Awakening Yoga* and flowing into Hatha Vinyasa, leaving you centered and feeling restored.
*Self Awakening Yoga is a therapeutic style, very meditative and is excellent for releasing tension in the body, particularity the hips and lower back.