Vanessa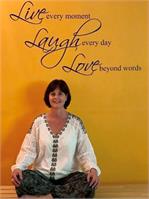 I work as a Clairvoyant Medium and Spiritual Healer to give guidance, insight and understanding to allow holistic healing to take place.
My spiritual pathway began when I was a teenager; when my natural interest in mediumship and the tarot cards, coincided with the understanding I was being given the choice to work as a channel for Spirit.
Using my intuition in a compassionate style, with or without the tarot cards; I will show and guide you through the pathways and options that are open to you and answer any questions you have on any aspect of your life.
With a diverse holistic background in addiction rehabilitation, cognitive behavioural therapy, colour therapy, dream analysis, hypnotherapy, mentoring, motivational interviewing, neuro-linguistic programming, past life regression, reiki, clairvoyance and my ongoing spiritual development.
I assist individuals to understand and re-programme their behaviour patterns, release negative emotions, access and anchor positive states and the tools needed to maintain their desired goal, this allowing the promotion of personal empowerment and change.
My healing sessions are tailor made for you, as an individual.
If you would like any further information, please contact me and I will be happy to answer any questions you have.
Vanessa instructs the following:
Breathe, Relax & Energise! Yoga Nidra in the Salt Cove
Enjoy the therapeutic benefits of halotherapy during a guided meditation
to allow our minds and bodies to energise and rebalance.
Booking is essential.




Children will enjoy using simple and creative activities and

practices to allow them to embrace the wonders of

'mindfulness' to help them restore their calm, confidence and

focus in our busy world.

A variety of adult meditation or yoga classes are scheduled
at the same time; allowing both you and your child to connect
with your internal place of calm.

Please see our class list and offers available for all students at
www.yogaananda.co.uk

Vanessa is a hypnotherapist and spiritual healer.
Please browse my website and contact me for further
details. Thank you www.vanessa-harris.co.uk





Mindfulness for Children aged 12 to 16 years

£8 per session or 6 class pass £36

Through discussion, pranayama and meditation practices; children will be
able to access to their very own tool box which will support them to
overcome some of the challenges they may face e.g. exams and increase
self -empowerment and harmony between mind and body.