Catherine Jaschinski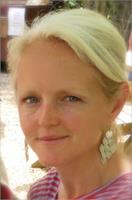 Yoga has been a part of my life for 18 years and over that time I have practiced Iyengar, Ashtanga, Hot and Vinyasa Flow yoga styles. My favourite style and the one I teach is Vinyasa Flow as it unites the breath, body and mind in a seamless and beautiful way, bringing awareness, contentment and grace to those who practice it.
Within my practice of yoga I have a passion for Mudras, Mindfulness and the Chakra system and how each of these practices can influence our energy and wellbeing.
I have always been physically active, playing many sports such as netball, basketball, lacrosse and squash. For a number of years I trained in traditional karate Gojyuryu as well as being a teacher. I like to bring into my yoga practice techniques from other pursuits, so you may see core exercise work from Pilates as well as karate stances and warm up techniques. I believe in being creative in the way we practice yoga – it keeps it fresh and fun.
Catherine Jaschinski is currently not instructing any classes.